Wedding Cars Available for Hire
No day is more special than your wedding day. Often planned over a long period of time, everything has to be perfect and this includes your car. From the transportation of the Bride to the Church to the drive of the newlyweds to the reception, the car plays an important and integral role throughout the day, indeed often featuring in wedding photographs as the bride arrives and couple depart from their place of marriage.
Click on the Images below to view more details about the Cars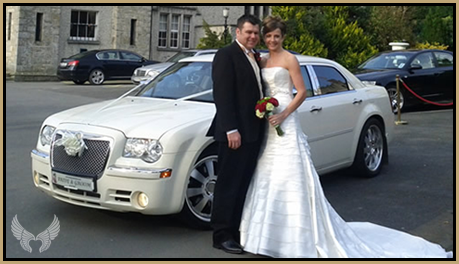 "Our white Baby Bentley is designed to steer you towards refinement and class."
Colour:

Cool White

Upholstery:

Grey Leather

Windows:

Tinted

Air Conditioning:

Yes

Wheels:

20" Chrome

Capacity:

Driver + 4 Persons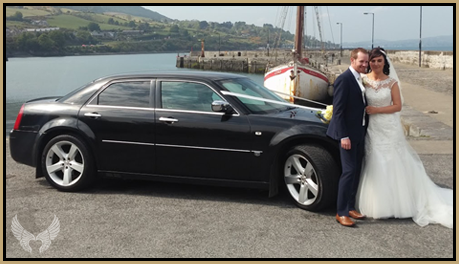 "Premium finishes and soft-touch materials give dramatic depth to every surface."
Colour:

Metallic Black

Upholstery:

Grey Leather

Windows:

Tinted

Air Conditioning:

Yes

Wheels:

20" Chrome

Capacity:

Driver + 4 Persons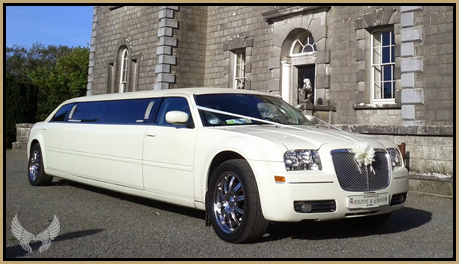 "The Baby Bentley stretched limo is one of the most popular vehicles in our fleet."
Colour:

Cool White / Metallic Black

Upholstery:

Grey Leather

Windows:

Tinted

Air Conditioning:

Yes

Wheels:

20" Chrome

Capacity:

Driver + 8 Persons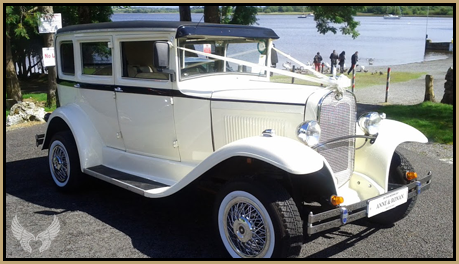 "A white wedding dress and vintage wedding cars just go together"
Colour:

Cool White

Upholstery:

Cream Leather

Styling:

Vintage 1930's

Heating:

Modern Heating System

Wheels:

Chrome Spoked

Capacity:

Driver + 2 Persons
How do I organise my Wedding Car ?
This is where 'Wedding Cars and Limo Hire' can help to make your wedding a great success. Whether your requirements are for a modern executive saloon or an extremely eye-catching stretched limousine. Or a stunning vintage style classic – we can help.
All of our cars are chauffeur driven by smart, professional drivers and include wedding decoration to match your wedding's chosen themes and colours and of course a complimentary bottle of bubbly and a state of the art sound system and karaoke machine in all our cars.
Contact us to book your perfect car, all cars can be pre booked online, email or call us for availability of certain models and colours of our magnificent stunning cars for hire. We guarantee the best Wedding Car Hire Service in Dublin.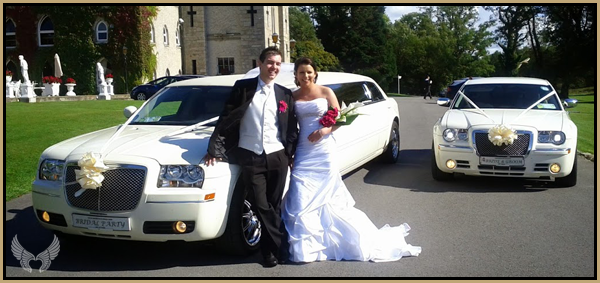 Wedding Car Hire Dundalk
We are delighted to be able to offer you a comprehensive choice from our fleet of wedding cars as we understand that no car hire is the same & couples should be able to make choices which suit their taste.
All our luxury Cars are top of the range and very unique, contact us for availability on our luxury fleet of limos & cars. All our cars are fully valeted and of the highest specification available, we guarantee to make your wedding day a success, contact us for availability on our car hire. We provide the best car hire in Dundalk, Drogheda & Louth.
As well as aesthetic preferences, their are some questions that you need to consider when considering car hire for your wedding. How is the wedding party being transported after the wedding? Instead of hiring two vehicles, perhaps our stretched limo which accommodates eight passengers in glorious luxury would be a good option.
We also have matching 'Baby Bentley's' (Black & White) which are very impressive offering timeless sophistication and genuine class. For those with an eye for nostalgia, we offer a fabulous Bramwith 1930's style vintage limo. This vehicle has all the looks of a classic car but benefits from modern technology limiting the chances of any badly timed breakdown!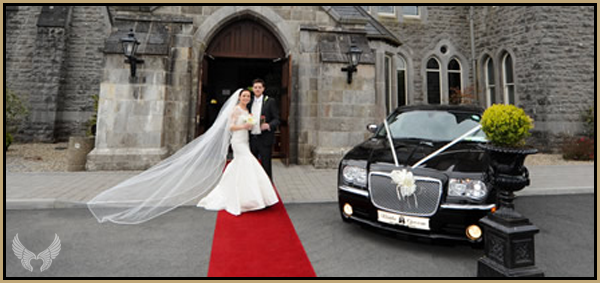 Wedding Cars in Dublin
Wedding Cars in Dublin is based in County Louth and County Leitrim, we spend much of out time in Dublin for both commercial and personal limo hire as well as for wedding cars in Dublin. We have been servicing the main Dublin hotels for many years and all of our chauffers are experienced Dublin drivers.
If you are based within Dublin, do please give us a call as you may find our prices are more competitive than many of the Wedding Cars Dublin based hire companies. Our fleet of vehicles are second to none and we have built a strong reputation on reliability, safety and discretion..
We have a wide range of limos and wedding cars. We can hire our great stretched limos, vintage wedding cars or executive limos as individuals or as a package. Call us on 087 781 4814 to inquire about our best prices.